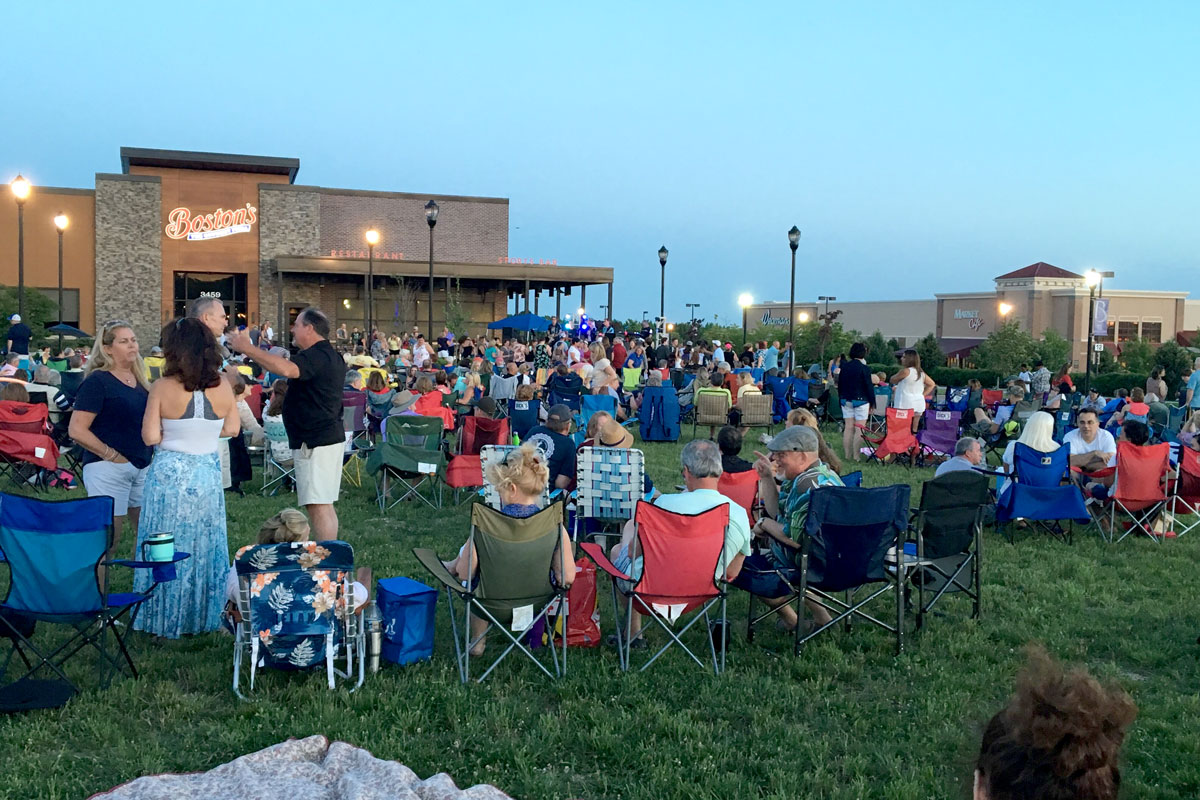 Sunsets on the Boulevard – The Sidleys October 5th
We have one more Sunsets Event for you!!! This is the last Sunsets on the Boulevard until next year, so we look forward to seeing everyone and jammin one last time to some rocking LIVE music! Of course you will still have a chance to win FREE Ravens tickets at this event thanks to all of our Boulevard merchants.
Our last concert in the Sunsets on the Boulevard series is on Friday October the 5th. We will have The Sidley's playing PLUS  Extreme Family Entertainment will be back with Free facepaint and balloon art, which makes all kids happy! Of course, the icing on the cake, you can enter for a chance at winning 2 FREE Ravens' tickets for the Ravens vs. Steelers game at M&T Stadium on November 4th, 2018. Awesome right!
So on October 5th grab the family, bring your chairs and blankets to the Boulevard. Relax and enjoy some great music as the sun sets in Harford County. The free music will start at 6:00pm and goes until 9:00pm. You will be able to sign-up for your chance to winning the Ravens tickets at the start of the event, just look for the purple table! Drawing will be held at 8:00 pm and you must be present to win, no exceptions.
(see contest rules)

Now let us tell you a little bit about the band!
The Sidleys
The Sidleys have been making music since 2012. Combining their strong talents as singers, songwriters and multi-instrumentalists, The Sidleys are a family that is creating a rich musical tradition in the Washington DC area. Annie and Steve Sidley, along with their sons, Sean, Colin and Ian Sidley, perform their own eclectic style of melodic, soul-influenced indie rock and shine together onstage with powerful voices, memorable songs and precise musicianship.
The Sidleys have been busy performing at some of the most prestigious venues in the mid-Atlantic region including The Fillmore, The Hamilton Live, The Tin Pan, The Barns at Wolf Trap, Bethesda Blues and Jazz and Villain & Saint as well as festivals and outdoor concert series up and down the East coast.
Meet the band
Annie Sidley influenced by greats like Aretha Franklin, Stevie Wonder, Amy Winehouse and Ann Wilson, honed her skills as a soulful vocalist songwriter and guitarist while touring across the country and playing some of the largest festivals in the US including; The Wine and Balloon Festival (San Diego, CA), Sawdust Festival (Laguna Beach, CA), the ASCAP Expo (LA, CA), Red Revel Fest (Shreveport, LA), Grapevine Festival (Dallas, TX), Music week in Austin, TX, Dewey Beach Music Fest (Dewey Beach, DE), Spring and Summer Fests (Ocean City, MD) and the National Capital BBQ Battle (DC). Annie released three solo albums; "Other Side of the Sun" (1995), "History" (2001) and "Diamond in the Sand" (2006 on her own label and then again in 2007 on Universal) and has also opened for Joan Jett, Chuck Brown, WAR and Kenny Wayne Shepherd.
Steve Sidley trained as a classical musician but was influenced by artists as diverse as Stevie Wonder, The Beatles, The Police and Jeff Buckley.  A multi-instrumentalist and songwriter Steve provided the funky bass for popular East coast bands The True, Derryberry & Alagia, Vertical Horizon and Sam's House while opening for national acts such as James Brown, The Moody Blues, Cheap Trick, Tom Tom Club and Everclear. Steve released a solo album under the name Mojo Nation in 2008, which along with Annie's three solo records, formed the seed that would soon blossom into The Sidleys.
Sean Sidley has been playing drums since he was a one-year old and quickly grew into a prodigy, performing onstage with his parents from the age of four. Deeply influenced by funk, gospel, jazz and progressive rock drummers such as Aaron Spears, Vinnie Colaiuta, Dennis Chambers and Keith Carlock, Sean has a dynamic, propulsive style of drumming that powers the music forward whether he's playing with The Sidleys or his own progressive fusion group, 495.
Colin Sidley began playing the bass at the age of 16 and within a few short years has become a prodigiously talented multi-in-strumentalist and singer. Trained in classical music as well as jazz, Colin has a wide array of influences that shape his musical style, particularly those of bassists James Jamerson, Jaco Pastorius, Paul McCartney and John Entwistle, bringing an exceptional sense of melody and arrangement to everything he does with The Sidleys and fusion project, 495.
Ian Sidley grew up playing along with his favorite rock songs on piano and quickly became a fervent disciple of jazz during his teen years. Playing and crafting his own instrumental compositions, Ian channels the sounds of influences like Chick Corea, Ahmad Jamal, Keith Emerson and Hiatus Kaiyote into a distinctive, rhythmic style with melodies and voicings that bring a deeper texture to The Sidleys and 495.
Want to know more about the band– check them out!
——
Please no alcohol, glass bottles or pets. Blankets and chairs are recommended. Food and drinks are available for purchase at local merchants. Please make sure you leave plenty of time to find parking. The concert may be canceled due to inclement or severe weather.
——
If you love these events please be sure to stop by and thank all of our merchants, without them events like these would not be possible.